Facilities
What are the facilities?
We are a purpose built nursery , specifically designed to maintain a 'homely' feel, whilst portraying a sense of the organisation that a school would suggest. We have four main classrooms and several communal learning areas. The children quickly become used to the concept of moving around a familiar building, as they will need to do when they move on to primary school.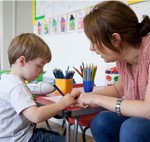 4 classrooms
There are four classrooms: The Caterpillar Class, The Butterfly Class, The Dragonfly Class and The Ladybird Class. The children spend a significant amount of time each day in their own classrooms, but also have timetabled sessions in the communal areas in the nursery.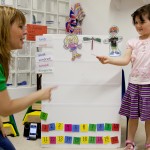 Extra-curricular and Meeting Room
This room is multi-purpose. It is used by our specialist music, French and drama teachers to teach small groups of children as well as offering parents and staff a quiet place to hold meetings                                               and workshops.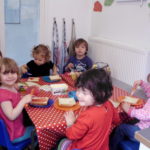 Domestic Science Room
All of the children have regular cookery lessons in this designated children's cookery room. They are introduced to basic food and hygiene issues, cookery processes as well as a range of tasty recipes.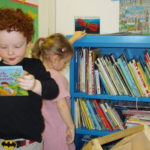 Library/Quiet Room
This room is an area in which children can spend time quietly reading in small groups or 1:1 with an adult. It also has a 'listening centre' for the children to enjoy spoken texts.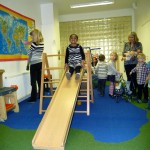 Outdoor/Indoor Playroom
This is a purpose built, large play space for the children to develop their physical or gross-motor skills. Each class has a daily timetabled 'playtime' in this exciting space.It opens out into the small little playground at the front of the nursery.